Dried meats are the quintessential protein packed, travel friendly go-to. Jerky gained a bad rap for being loaded with processed ingredients, but remained a popular and somewhat healthier option in the snack world. With the resurgence of paleolithic diets and "clean" eating, the demand for high quality meat snacks is at an all time high; and it's being supplied in a big way. The concept of jerky has extended far beyond beef and the flavors we've come to know and love have taken a turn for the wild. Join us for a look at how meat snacks have evolved.
---
The Classics
(Source)
Many of us who tuned into television throughout the nineties can vividly recall "Snap Into a Slim Jim!" being screamed at them through the screen. The bizarre advertisements were jarring, yet somehow made the product appetizing. The thin rods of mechanically separated meat were a treat to look forward to on road trips and
gas station runs. Slim Jim's remain the poster child for nostalgia in the meat snack space.
(Source)
Jack Links took on the similarly humorous tone as Slim Jim's by bridging the missing link with folklore favorite Sasquatch as a mascot. However, this jerky promised real pieces of beef, packaged in gusset bags for easy snacking and optimal freshness. They've since extended their line of protein snacks to include bite sized pieces, beef sticks and sausages.
---
Adventures in Flavor

(Source)
The flavors that one would typically associate with jerky generally lie in the realm of traditional meat seasonings – black pepper, teriyaki, barbecue sauce. Lawless Jerky has cast all of those expectations away with truly unexpected flavors like Japanese Curry and Pho.

(Source)
The founder of Uncle Andy's beef jerky was heavily inspired by the bold flavor experimentation he saw breweries taking. Following suit, some unique varieties of this snack were born. The packaging of these snacks tell a story that clearly isn't for the faint of heart. Are you brave enough to try a spicy coffee flavored jerky?
---
Mix it Up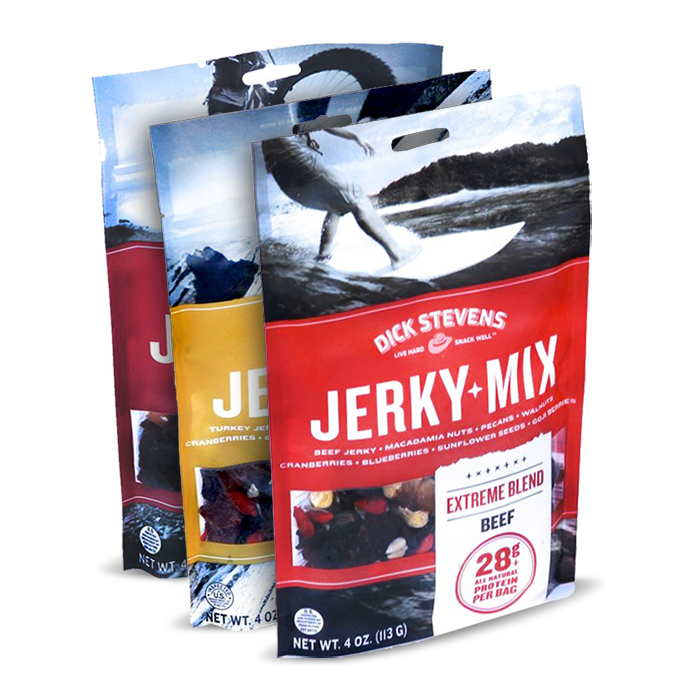 (Source)
Many adventurers opt for jerky because it's a lightweight, high protein fuel to keep energy levels up throughout the day. Meanwhile, trail mix has seemingly descended into the candy category, with many varieties being sugar and calorie laden. Dick Stevens has combined these two for an unconventional yet hearty snack. You won't find any candy coated chocolates in this trail mix.
(Source)
Epic has carved out a nice space for themselves in the protein snack world, which was led by their beautifully designed meat bars. In addition to these bars, bone broths, and animal oils, they've rolled out the Hunter & Harvest Mix line. This reimagined trail mix directly challenges sweetened granolas and other staples of the active lifestyle with something much more rich and substantial.
---
No Holds Barred
(Source)
Tanka is a Native American company who makes all natural buffalo based products. Condensing all the flavor of a home cooked meal into a bar seems like a difficult feat, but with these meat bars, you can pack some serious protein in your pocket. The Native American way of wellness is ingrained in these foods, making for a wholesome and satisfying snack experience.
(Source)
In recognition that savory is giving sweet a run for its money, chocolate giant Hershey has backed the jerky company Krave for a new line of meat bars. Krave has proven that there is plenty of space to experiment in the meat snack industry, as they helped set the course for unconventional jerky flavors. Though this line of bars has not officially debuted to the public, we're looking forward to trying them for ourselves.
---
We're always on the hunt for a good protein fix and the ways to attain such are endless. What do you think will be the next big thing for meat snacks?